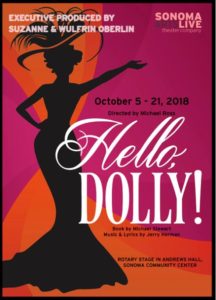 Michael Stewart's and Jerry Herman's classic American musical "Hello, Dolly" is enjoying a delightful revival at Sonoma Arts Live in the town of Sonoma, through October 21.
Starring Dani Innocenti-Beem as Dolly Gallagher Levi, the widowed yenta suprema of New York City and environs, the show is a feel-good piece of Americana. In some ways "Dolly" is the companion piece to Meredith Willson's "The Music Man"—the two are set in the same era and share the sort of gentle humor that pokes fun at characters and circumstances without subjecting them to vicious ridicule.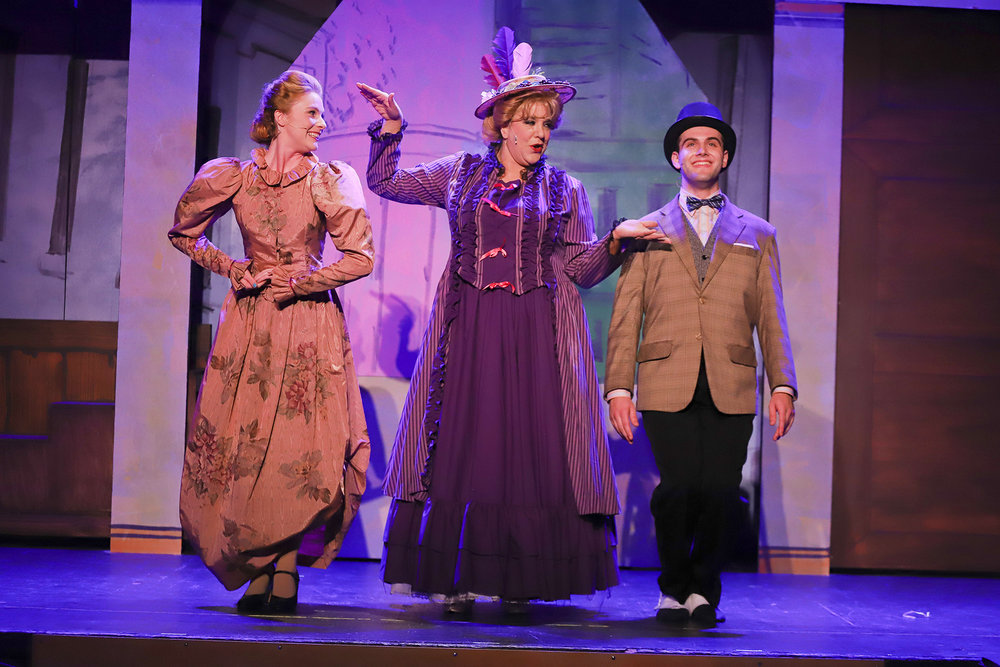 Dolly is the story's fairy godmother character—she propels all the action with constant well-intended intervention in the affairs of others, but doesn't have much of a character arc of her own. The lead role gives Innocenti-Beem many of the show's best songs—including the heart-rending "Before the Parade Passes By"—and most of its funny lines, at least a few of them ad-libs on the part of the irrepressibly funny actress-singer.
Overall, this "Dolly" is beautifully done, with enormous energy from the cast and spectacular costumes…
The charming Tim Setzer shines in the role of Horace Vandergelder, a wealthy merchant in need of a wife. Dolly's persuasive powers convince him that his quest will be fulfilled in New York, and when he goes into the city from Yonkers his two inept clerks Cornelius and Barnaby (Michael Scott Wells and Lorenzo Alviso, respectively) follow him. In the city, the penniless fools pretend to be rich in the hope of meeting girls.
Much comic confusion ensues but thanks to Dolly they get their wish—a hat shop owner named Irene Molloy (Danielle DeBow) and her assistant Minnie (ScharyPearl Fugitt). So does Vandergelder, who ultimately lands not the widowed heiress he had anticipated, but the matchmaker herself.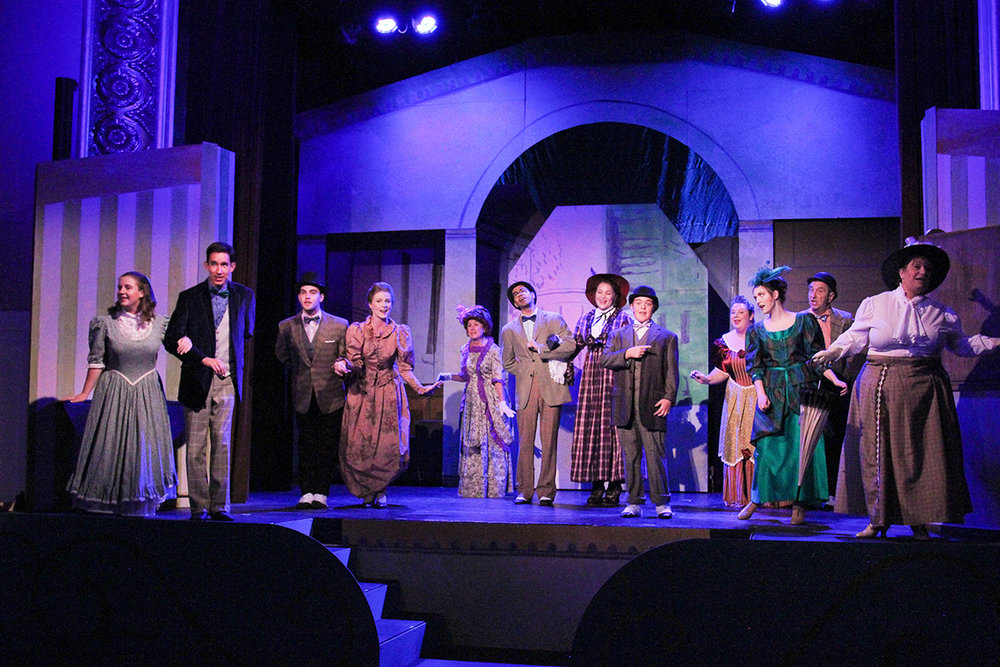 With a huge nineteen-member cast, the show is both romantic comedy with multiple couplings and a comedic free-for-all with plenty of big production numbers that may not do much to propel the plot but offer plenty of entertainment value. Late in the show, real-life husband-and-wife Wells and DeBow perform a sweet duet made more meaningful by their obvious love for each other. It's a moment that will prompt tears from even the most cynical viewers.
Overall, this "Dolly" is beautifully done, with enormous energy from the cast and spectacular costumes by Janis Snyder. Opening night was marred by technical glitches with the sound. We've been assured by multiple sources that these problems have been solved, and that the results are exemplary. Why this wasn't done during technical rehearsals is a mystery, but it's good to know that for the remainder of its run this show will be delivered at the high level it deserves.

ASR Theatre Section Editor and Senior Contributor Barry Willis is a member of the American Theatre Critics Association and president of the SF Bay Area Theatre Critics Circle.
Production
My Fair Lady!
Written by
Book by Alan Jay Lerner. Music and Lyrics by Lerner & Frederick Loewe.
Directed by
Michael Ross
Producing Company
Sonoma Arts Live
Production Dates
Thru July 28th
Production Address
Rotary Stage: Andrews Hall, Sonoma Community Center
276 E. Napa Street, Sonoma
Website
www.sonomaartslive.org
Telephone
866-710-8942
Tickets
$25 – $40
Reviewer Score
Max in each category is 5/5
Overall
5/5
Performance
5/5
Script
5/5
Stagecraft
5/5
Aisle Seat Review Pick?
YES!