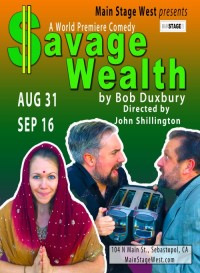 Sebastopol's Main Stage West new season is off to a roaring start with "Savage Wealth," a world premiere of Bob Duxbury's brilliant, incisive comedy.
In it, very unlike brothers Gabe and Todd (Matt Cadigan and Peter T. Downey) scheme to sell their family home with a view of Lake Tahoe but encounter unanticipated complications with their neighbor and childhood friend Beenie (Ilana Niernberger, in a fantastic performance), who owns the vacant lot immediately in front of the brothers' home.
…a rarity, especially for a community theater troupe: a brilliant script brilliantly performed…
Todd is a hard-charging and deeply cynical political consultant and lobbyist, while Gabe is a contemplative unemployed slacker. Trustfunder Beenie spends her time flitting from ashram to spa to spiritual retreat and has an extensive repertoire of New Age practices that she unleashes on the brothers, in a not-fully-thought-out attempt to resolve their disputes and to get her own needs met. Roxbury's script hits all the right notes, with plenty of potshots at a particularly Northern California style of pretension.
Director John Shillington extracts hilarious ensemble work from this talented trio. "Savage Wealth" is a rarity, especially for a community theater troupe: a brilliant script brilliantly performed. The short run—the show closes on September 16—does it a disservice.

ASR Theatre Section Editor and Senior Contributor Barry Willis is a member of the American Theatre Critics Association and president of the SF Bay Area Theatre Critics Circle.
Production
Swallow
Written by
Stef Smith
Directed by
Missy Weave
Producing Company
Main Stage West
Production Dates
Through Jan 27th
Production Address
Main Stage West
104 N Main St
Sebastopol, CA 95472
Website
www.mainstagewest.com
Telephone
707.823.0177
Tickets
$15 – $30
Reviewer Score
Max in each category is 5/5
Overall
4/5
Performance
4.5/5
Script
3.5/5
Stagecraft
4/5
Aisle Seat Review PICK!
YES!