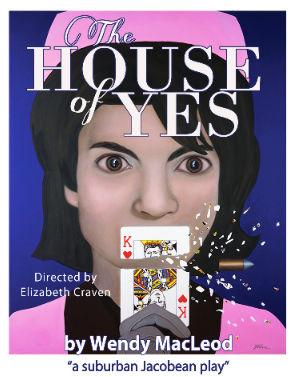 Received wisdom has it that a plagiarist copies from one; a genius imitates many. By that standard, playwright Wendy Macleod's genius rating must be off the chart. In her incisive and savagely funny "The House of Yes," at Main Stage West in Sebatopol through December 16, are echoes of Chekov, Ibsen, Beckett, and Albee, yet the play is wholly original. A depiction of perhaps the ultimate dysfunctional family, it's one of the most amazing carnival rides ever undertaken though the dark side of familial relations.
In upper-crust McLean, Virginia (a suburb of Washington, DC) all appears normal in the Pascal home, near the Kennedy residence. Presided over by a bejeweled and perpetually plastered matriarch (Laura Jorgensen), the indolent Pascals have little to do other than drink and snipe at each other. We meet younger son Anthony (Elijah Pinkham), an Ivy League dropout with a lackadaisical Jimmy Stewart demeanor, and his older sister "Jackie-O" (Sharia Pierce), so called because of her obsession with the former First Lady, in particular the former First Lady on the day of her husband's assassination.
Everything about this production is perfection…
Jackie-O's personal problems—irrational outbursts, mania, depression, and a pharmacy's worth of prescription drugs—are the primary focus for Anthony and his mother. Hyperactive with no internal filter, Jackie-O can and will say almost anything, much of it stupendously funny.
It's a long-running family soap opera, but a minor symptom of a much deeper malaise, as we learn when her twin brother Marty (Sam Coughlin) comes home with his fiancée Lesly (Ilana Nierberger), a sweet and seemingly well-balanced girl from Pennsylvania. She soon realizes that she's in over her head—way over her head—as Jackie-O reveals that she and Marty have enjoyed a special relationship since they were "in the womb," one that has continued unabated right into adulthood and that nothing will ever break. Lesly also caves into an inept seduction by Anthony, an act she immediately regrets.
As all this unfolds, we learn that the unseen and presumably departed Mr. Pascal contributed only his fortune to the family, and that his wife was so busy bed-hopping that she isn't sure who fathered her children.
That's merely a plot outline. What happens in developing it is so wildly unpredictable and outrageously funny that revealing more would do a disservice to potential ticket buyers.
Everything about this production is perfection: Elizabeth Craven's stunning set design—stark black-and-white hyper-modern art—and Missy Weaver's moody lighting,  are a perfect complement to Macleod's deeply disturbing comedy—one accurately described by MSW's John Craven as "funny until it isn't funny anymore." Performances range from subdued to over-the-top, but always appropriate and perfectly timed.
"The House of Yes" is easily one of the best productions in the North Bay this year, the sort of rabbit hole that theatergoers venture into all too rarely. It's exhilarating, shocking, hilarious, and deadly—a ten-star show on a five-star scale. Simply brilliant.

ASR Theatre Section Editor and Senior Contributor Barry Willis is a member of the American Theatre Critics Association and president of the SF Bay Area Theatre Critics Circle. Contact him at barry.m.willis@gmail.com
Production
Swallow
Written by
Stef Smith
Directed by
Missy Weave
Producing Company
Main Stage West
Production Dates
Through Jan 27th
Production Address
Main Stage West
104 N Main St
Sebastopol, CA 95472
Website
www.mainstagewest.com
Telephone
707.823.0177
Tickets
$15 – $30
Reviewer Score
Max in each category is 5/5
Overall
4/5
Performance
4.5/5
Script
3.5/5
Stagecraft
4/5
Aisle Seat Review PICK!
YES!