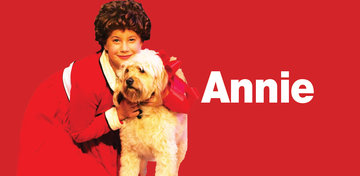 An unexpected benefactor saves a spunky orphan girl from a life of drudgery in the classic musical "Annie," at 6th Street Playhouse in Santa Rosa, through December 22.
Based on the Depression-era comic strip "Little Orphan Annie," this Michael Fontaine-helmed production features two separate casts of adolescent girls (at least, they appear to be adolescents) and an adult cast of North Bay theater veterans—Larry Williams as Daddy Warbucks, Daniela Innocenti-Beem as orphanage matron Miss Hannnigan, Jeff Coté as schemer Rooster Hannigan, Lydia Revelos as Rooster's companion Lily St. Regis, Steve Thorpe as Franklin Delano Roosevelt, Trevor Hoffman as radio announcer Burt Healy, Morgan Harrington as Grace, assistant to Daddy Warbucks, and Dwayne Stincelli as Drake, head of the Warbucks household.
"Annie" will always be a relevant show…
On a versatile set by Jeff Thomson—with quick changes, it serves variously as orphanage, city streets, the Warbucks mansion, the White House, and a radio station studio—the show features many great and widely beloved songs, including "Hard Knock Life," "Tomorrow," "Easy Street," and "I Don't Need Anything but You." Who have hearts so cold that they can't be moved by a dozen scruffy orphan girls scrubbing the floor and singing away? Or a red-haired kid—Alina Kingwill Peterson on opening night—giving her big voice to a great anthem of hope? Let's not forget Sandy, her fluffy pooch, who can't seem to find her marks but prompts gushes from the audience.
Larry Williams brings believable gravitas to the role of Daddy Warbucks, including decent song-and-dance skills. Morgan Harrington is appealing as Warbucks's assistant, with a soaring soprano voice that dominates every ensemble piece she's in. Jeff Coté and Lydia Revelos are amusing as a pair of bottom-rung hustlers, and do some marvelous ensemble work with Dani Innocenti-Beem, especially in the crowd-pleasing "Easy Street." Innocenti-Beem is clearly the audience favorite as the tippling harridan who can't stand the kids she supervises. Her offhand comedic bits add spice to a deliciously convincing portrayal of the mean bitch you love to hate.
Dale Camden—a talented actor seen not enough recently on North Bay stages—has a hilarious breakout moment of song and dance as a member of Roosevelt's cabinet. And Trevor Hoffman is delightful as butter-voiced radio personality Burt Healy.
There are many obvious parallels between our own time and the Great Depression of the 1930s. Although unemployment today is at an all-time low, we are still plagued with homelessness—homeless encampments were called "Hoovervilles" in the '30s, in honor of the president who ushered in the Depression—and disparity between rich and poor is as severe as ever.
"Annie" will always be a relevant show, and with its upbeat message, always a popular salve for our social malaise.

ASR Theatre Section Editor and Senior Contributor Barry Willis is a member of the American Theatre Critics Association and president of the SF Bay Area Theatre Critics Circle. Contact him at barry.m.willis@gmail.com
Production
Moon Over Buffalo
Written by
Ken Ludwig
Directed by
Carl Jordan
Producing Company
6th Street Playhouse
Production Dates
Through Feb 3rd
Production Address
Sixth Street Playhouse
52 W. 6th Street
Santa Rosa, CA 95401
Website
http://www.6thstreetplayhouse.com
Telephone
(707) 523-4185
Tickets
$20 – $30
Reviewer Score
Max in each category is 5/5
Overall
3.5/5
Performance
4/5
Script
3/5
Stagecraft
3.5/5
Aisle Seat Review PICK?
--------