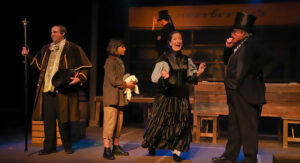 London in Charles Dickens's time must have been close to hell on earth, choked with pollution, poverty, homelessness, and crime. "Oliver Twist," the author's second novel, depicts all this quite vividly. So does "Oliver!" the 1960 musical adaptation by Lionel Bart, at Santa Rosa's 6th Street Playhouse through December 15.
The show's requirement of many children in the cast prompts theater companies to present it in the hope of generating substantial ticket sales—all those kids have parents, relatives, and friends who must attend. But despite its huge popularity, it's not a feel-good extravaganza like "Annie." It's a grim portrait of a poor orphan boy (Cecilia Brenner and Gus Jordan, in alternating performances) doing his best to survive in unbelievably adverse circumstance.
This includes falling in with a group of scuzzy adolescent hoodlums led by an old hustler named Fagin (David Yen), who fences their stolen goods in exchange for providing them a bit of safety and mentorship, aided by his youthful apprentice The Artful Dodger (Mario Herrera). These small-time criminals are in turn under the thumb of a really serious criminal named Bill Sykes (the imposing Zachary Hasbany), a malevolent force who doesn't hesitate to kill people who displease him or get in his way.
…the performers are exuberantly entertaining across the whole range of acting, singing, and dancing…
Survival is the primary plot, but there are some compelling secondary plots too, including love affairs among the adults—especially between the doomed, pathetically mistreated Nancy (Brittany Law) and the dastardly Sikes. There's also a meandering subplot about the hunt for Oliver's family of origin that's resolved near the end, as is Fagin's reconsideration of his disreputable career.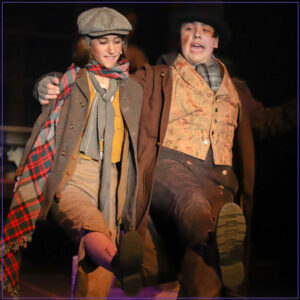 6th Street's show has a huge cast—it's in many ways an all-star gathering of North Bay theatrical talent, who make substantial contributions to its success under director Patrick Nims. The set by Sam Transleau is equally huge, occupying the entirety of the big stage in the G.K. Hardt theater, save the space backstage where Ginger Beavers leads an excellent seven-piece band.
There's some inexplicable gender-bending in the adult casting, but most of the performers are exuberantly entertaining across the whole range of acting, singing, and dancing (choreography by Joseph Favalora).
Oliver's personal triumph is uplifting, and Fagin's repentance satisfying, but the real appeal of the show—and perhaps, the reason for its enduring popularity—is the number of great songs in it. Many of them broke out as pop and jazz standards—especially Nancy's heartbreaking showcase number, "As Long As He Needs Me." The music alone recommends this show, while the rest of it works with admirable effort in every direction to sustain that level.

ASR Executive Editor Barry Willis is a member of the American Theatre Critics Association and president of the SF Bay Area Theatre Critics Circle. Contact: barry.m.willis@gmail.com
Production
Oliver!
Written by
Lionel Bart
Directed by
Patrick Nims
Producing Company
6th Street Playhouse, Studio Theatre
Production Dates
Through December 15th
Production Address
6th Street Playhouse
52 W. 6th Street
Santa Rosa, CA 95401
Website
http://www.6thstreetplayhouse.com
Telephone
(707) 523-4185
Tickets
$22 – $38
Reviewer Score
Max in each category is 5/5
Overall
3.5/5
Performance
3.5/5
Script
4/5
Stagecraft
3/5
Aisle Seat Review PICK?
----