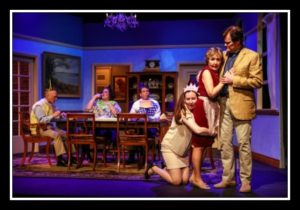 A.R. Gurney's "The Dining Room" is an insider's gentle spoof of upper-middle-class White Anglo-Saxon Protestants (WASPs) of the northeastern United States, the dominant culture in this country throughout the 20th century. Morals, assumptions, beliefs, values, and behaviors all get fully and sometimes hilariously examined in the play's two hours, the entirety of which takes place in the dining room of one stately home, in overlapping scenes that span several generations and decades.
It's also a challenging exercise for actors required to play characters of wildly divergent ages: older actors portraying children, for example, or younger ones playing the elderly.
This can be a bit of a stretch, as proven in the current production at Sonoma Arts Live, directed by Joey Hoeber. With six actors playing multiple roles, some are convincing and others not so, to the extent that it may be uncomfortable to watch. Veteran actor Kit Grimm is at his finest portraying a couple of curmudgeonly grandfathers, but not believable as a six-year-old at a birthday party. Trevor Hoffman is outstanding playing an almost age-appropriate teenager, while Rhonda Guaraglia is not. She's much better as Aunt Harriet, showing her college-age son what proper dining etiquette and paraphernalia are all about.
The dining room in question is elegantly and convincingly recreated on a raised stage by set designer Bruce Lackovic, and well used by a parade of faux New Englanders including a pushy realtor, a philandering married couple, a Boston handyman, a Freudian psychiatrist, an architect, and parents and children of all ages. The opening act at SAL is marred by some unevenness but redeemed by a smoothly performed and heartwarming second act.
"The Dining Room" is more than a gentle spoof. It's also a love song and fond farewell to a way of life slowly but inexorably vanishing. In this, the Sonoma Arts cast succeeds in getting it right.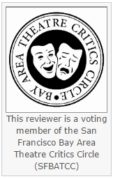 Barry Willis is a Senior Writer/Editor at Aisle Seat Review. He is also a member of the American Theatre Critics Association and president of the San Francisco Bay Area Theatre Critics Circle.
A.R. Gurney's "The Dining Room," directed by Joey Hoeber
Through February 4, 2018
Sonoma Arts Live
Rotary Stage, Andrews Hall, Sonoma Community Center
276 E. Napa Street
Sonoma CA 95476
Info: sonomaartslive.org Tel: 866-710-8942
Rating: Three out of Five Stars
***** ***** ***** ***** *****