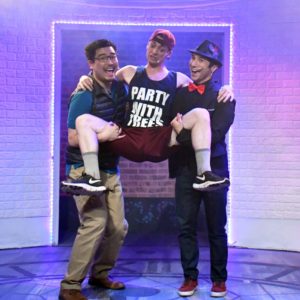 What if Cinderella were alive today, resigned to searching for her kale-munching, kombucha-swilling, flannel shirt-donning prince on an Internet dating app, adrift in a sea of creepy stalkers and unsolicited 'dick pics?'
Running through May 26th at San Francisco's Custom Made Theatre Co., modern musical "Tinderella" puts a wildly entertaining spin on an age-old classic, thrusting our beloved Disney princess into the harsh realities of 21st-century online dating. FaultLine Theater has partnered with Custom Made for the world premiere of a brilliant show three years in the making, attracting a remarkably young, enthusiastic audience with a story acutely relevant to millennials and Bay Area living, and poking plenty of fun at our newfound reliance on all things digital. (Boomers, be warned – some generational references may be lost in translation.)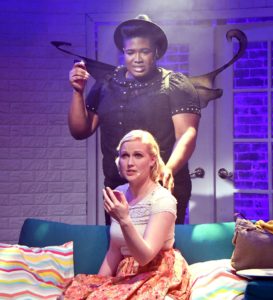 Once upon a time, (shortly after the release of the iPhone 5, but before the release of the iPhone 5C, we're told), our princess Meg (Juliana Lustenader) naively yearns for the fairy-tale romance she grew up believing she was destined for. Her ordinary life feels inadequate when measured against the glamorous Facebook facades of her social media-savvy stepsisters, whose virtual personas exude the confidence and fulfillment Meg aspires to. But when gay fairy-god-roommate Dylan (the magnificent Branden Noel Thomas) introduces her to popular dating app Tinder, it seems as though her luck may be about to change. "If you're straight, hot, and white," he tells her, "Tinder is like magic, (more or less)."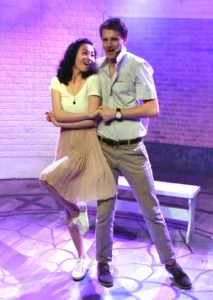 Meanwhile, in couples' land, Julie (the exquisite Sarah Jiang) and Marcus (Jackson Thea) are at a crossroads. Marcus wants to settle down with Julie, move to Texas, buy a dog, and crank out a couple of kids. Julie, on the other hand, wants… well, she doesn't exactly know yet, but she's pretty sure it isn't that. She urges him to take a step back and explore other options. Marcus does just that, inviting his new Tinder match Meg to a "super cool party" at his San Francisco apartment. Full of hope, Meg sets out to meet her prince, win his heart, and catch the last BART train back to Oakland before midnight. But in a world where success is measured in "likes" and love is found by "swiping right," all bets for a happy ending are off.
The cellphone-toting ensemble is well balanced and superbly gifted, and vocal talent abounds. Thomas is dynamic, empathetic, and often hilarious as quesadilla-making, tough-loving Dylan, with a powerful voice and a flair for delivery. In lead roles, Thea and Lustenader are both convincing and cute and remain lovable despite lapses of self-centered blindness.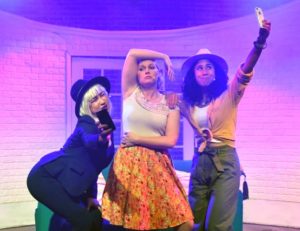 Adielyn Mendoza and Alex Akin are well cast as New York fashionista Allie and world-traveling, do-gooder Tanya (Meg's not-so-evil stepsisters). Their excellent voices, though regrettably underutilized, are put to good use in "Picture Perfect" and "Reality Check," calling out our obsession with 'selfies' and the false images of perfection we project online.
Jiang shines in a standout performance as undecided Julie, questioning whether she's in the best place she can be ("The Best Place") and ultimately helping lead us to one of the night's most insightful revelations – that we are all sometimes guilty of forcing others to play a role in our own stories. It takes courage to shed our misguided fairy-tale notions and break free from the pressure to conform. "I'm not giving up on my dreams," Julie explains to Marcus, "but I'm giving up on yours." Jiang's beautiful voice only accentuates her knack for acting and reacting to the other cast members throughout the show.
The production is punctuated by riotous, foot-tapping musical numbers like "Old School Chivalry," "Slow Grind Love Song," and "(You're Gonna) F***ing Rock It." Weston Scott's lyrics are funny and sharp, pairing perfectly with Christian B. Schmidt's hip, vibrant score. Meredith Joelle Charlson's choreography adds much to the tear-inducing hilarity of lighter-hearted acts. The more solemn, introspective pieces are lovely, too, spotlighting some of the incredible voices on stage.
"Tinderella" is the sexy, hilarious, and highly enjoyable triumph of an immensely talented cast and creative team. You, too, may fall in love at first swipe.
Nicole Singley is a Contributor to Aisle Seat Review.
"Tinderella: The Modern Musical" by Rose Oser, Christian B. Schmidt, and Weston Scott, in partnership with FaultLine Theater
Custom Made Theatre Co., 533 Sutter St, San Francisco, CA 94102
Through May 26, 2018
Tickets: $25—$49
Info: (415) 798-2682, custommade.org
Recommended for mature audiences
Rating: Five out of Five Stars
@@@@@     @@@@@     @@@@@