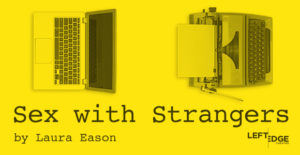 How do you define success, and what would you sacrifice to achieve it? Would you be willing to take advantage of others? To trade in your dignity, your privacy, or even your identity? Would you dare to risk a shot at love?
Pondering the price of fame in the digital era, "Sex with Strangers" is the smart, seductive modern romance by Emmy Award-winning House of Cards writer Laura Eason, playing now through February 17th at Santa Rosa's Left Edge Theatre.
Olivia (Sandra Ish) has faded into obscurity following the long-ago release of her modestly successful novel. Badly bruised by mixed reviews and fearing public scrutiny, she continues to write but shares her work with no one. Now in her late thirties, Olivia has settled for a teaching job and relegated writing to a hobby.
Ethan (Dean Linnard) is an up-and-coming writer who, at only 28, has already made a splash on the New York Times Best Seller list and amassed a sizeable following online. Having leveraged his controversial blog about casual sex into two books and an impending movie deal, Ethan's fame and fortune are on an upward trajectory. Even so, he is restless to escape his reputation as philandering lothario and rebrand himself as a serious author.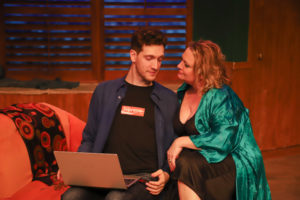 When a snowstorm leaves these strangers stranded and alone at a remote bed-and-breakfast, sparks fly as flirtatious tension escalates into a passionate affair. But we soon learn their chance encounter wasn't chance at all, and when Ethan offers to help relaunch Olivia's career, there is ample room to doubt his motives. Olivia, we learn, has ambitions of her own, and we are left to question who is using whom. Or could this be a genuine connection?
…a steamy, entertaining story full of laugh-out-loud moments…"
Anticipation is half the fun, and the opening scenes are butterfly-inducing as heat and momentum build between Olivia and Ethan. Their banter appears unrehearsed – the pair's interactions feel alluringly natural, raw, and resultantly real. Eason's dialogue is sharp and delightfully fast-paced, and these two pros deliver it with ease.
Linnard's Ethan is irresistibly charming. His coarse manners and frank confidence are at once repulsive and magnetic. There's a sweet sincerity in his affection for Olivia that helps sustain our hope in the honesty of his intentions, despite the reasons we are given to suspect he can't be trusted. Ish is equally excellent as voluptuous Olivia, bringing a compelling blend of vulnerability, sass, and surprising strength to the role.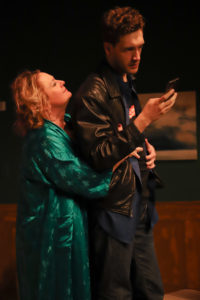 The unlikelihood of their pairing makes their romance all the more interesting to watch unfold. What might have been a modest age difference in decades past is now a significant gap made ever broader by the rapid technological advancements we've seen in the last twenty years. Ethan's Wi-Fi dependent world is ruled by an ever-ringing cell phone, overflowing email inbox, and constant public exposure. Olivia's world – at least when we first meet her – is significantly more quiet. She's still a fan, after all, of things like privacy and hard copy books.
A subtle power shift occurs as Olivia's star begins to rise and Ethan's fades, culminating in a simple, striking moment when the scene is interrupted by a ringing phone. We expect to see Ethan reach into his pocket. But this time, much to our surprise, the call is for Olivia. (Kudos to Sound Designer Joe Winkler for this and other well-timed effects.)
Eason's ending is powerful and poignant, leaving the door open for us to reflect on what we hope will happen after the curtain falls. We are at once indulged but also wanting more.
Under Diane Bailey's direction, Linnard and Ish hit it out of the park. Light Designer April George creates a convincing blizzard outside the opening scene's window, and Argo Thompson's set provides an attractive and believable backdrop, converting cleanly from a cozy bed-and-breakfast to an urban apartment.
"Sex with Strangers" is a steamy, entertaining story full of laugh-out-loud moments and plenty of food for serious thought. Leave the kids at home, check your inhibitions at the door, and strap in for a night of fun you won't regret the morning after.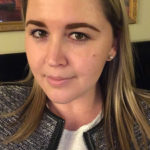 ASR reviewer Nicole Singley is a member of the San Francisco Bay Area Theatre Critics Circle, the Marquee Theater Journalists Association, and the American Theatre Critics Association.
Production
Sex with Strangers
Written by
Laura Eason
Directed by
Diane Bailey
Producing Company
Left Edge Theatre
Production Dates
Through February 17th
Production Address
Luther Burbank Center for the Arts

50 Mark West Springs Rd. Santa Rosa, CA 95403
Website
www.leftedgetheatre.com
Telephone
(707) 546-3600
Tickets
$25-$40
Reviewer Score
Max in each category is 5/5
Overall
4.5/5
Performance
4.5/5
Script
4.5/5
Stagecraft
4/5
Aisle Seat Review Pick?
Yes!