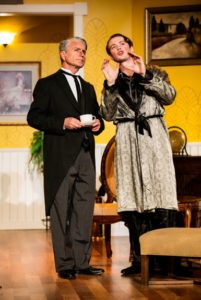 Adapted from the stories of popular 20th-century humorist P.G. Wodehouse, "Jeeves Intervenes" brings lovable playboy Bertie Wooster and his ever-sensible manservant to the stage for new adventures in London's 1920s haut monde. Paying homage to Wodehouse's keen ability for satire, Margaret Raether's script takes comedic aim at England's strait-laced elite, weaving an entertaining web of elaborate scheming, pretense, and old-fashioned farce. The Sonoma Arts Live production, playing now through May 27th, is good for a few big laughs and an evening of light-hearted fare.
Bertie (Delaney Brummé) enjoys a life of leisurely bachelorhood, relying on his aunt's financial support and loyal valet Jeeves (the excellent Randy St. Jean) to keep him out of constant trouble. When domineering Aunt Agatha (Jennie Brick) comes to town with plans to pressure Bertie into marriage, it's up to quick-thinking Jeeves to rescue his charge from the unwanted union with up-and-coming socialite Gertie (Libby Oberlin).
Meanwhile, Bertie's old school mate Eustace, aka "Bassy" (Nick Moore), is dreading the arrival of a disapproving uncle who intends to ship him off to a job in India. Having never worked a day in his life – and desperately hoping to change his overbearing benefactor's mind – Bassy must convince Sir Rupert (Larry Williams) that he's built a suitable life for himself in London. (Spoiler alert: he hasn't.)
Can blundering Bassy escape a life of labor abroad without lifting a finger or losing his allowance? Is our steadfast bachelor doomed to go through life as the unpalatable "Bertie and Gertie?" Cue the shenanigans and enter Jeeves to save the day. Deception multiplies, new love blossoms, sparks fly, and old flames reignite as our clever hero works his magic behind the scenes.
St. Jean carries the show with his levelheaded demeanor, reserved sarcasm, and efficacious intonation. He is the picture of a proper gentleman's gentleman, charming the audience with his dry wit and subtle, all-knowing expressions. Moore's Bassy is marked by an appropriate air of highfalutin laziness and clumsy tomfoolery, which earns some laughs and helps to sell his character. Oberlin is a good fit for debutante Gertie, with a winning smile and youthful exuberance well suited to the task of whipping wayward young men into matrimonial shape.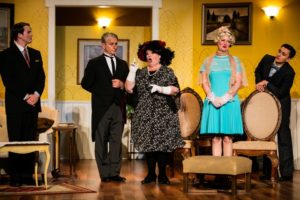 Brick and Williams are competent in their roles, though more believable as meddling relatives than former paramours. A lack of chemistry lessens the excitement we want to feel for their romance. Brummé's otherwise able performance is regrettably overshadowed by a jarring vocal gimmick, which oversteps the boundary between funny and obnoxious and, at times, obscures the actor's lines. Cracking into a shrill pitch with awkward regularity, his delivery feels more appropriate for a pubescent schoolboy than a suave womanizer in high society. It's an unfortunate distraction from Raether's witty dialogue, but the physicality of the comedy is often enough to overcome any confusion about what's happening on-stage.
The production is enhanced by Carl Jordan's colorful set and Moira McGovern's period-appropriate musical selections. Eric Jackson's costumes are mostly a hit, though Gertie's outfits often (and perhaps deliberately) upstage the other characters'.
Despite its faults, the show evokes a pleasant nostalgia for eras past with its slapstick humor and whimsical characters. The mischief concludes with the satisfaction of a happy ending, all thanks, of course, to the intervention of our hero.
Nicole Singley is a Contributor to Aisle Seat Review.
"Jeeves Intervenes" by Margaret Raether, adapted from the works of P.G. Wodehouse
Sonoma Arts Live
Rotary Stage in Andrews Hall at the Sonoma Community Center, 276 E Napa St, Sonoma, CA 95476
Through May 27, 2018
Tickets: $22—$37
Info: 866-710-8942, www.sonomaartslive.org
Rating: Three out of Five Stars
@@@@@     @@@@@     @@@@@