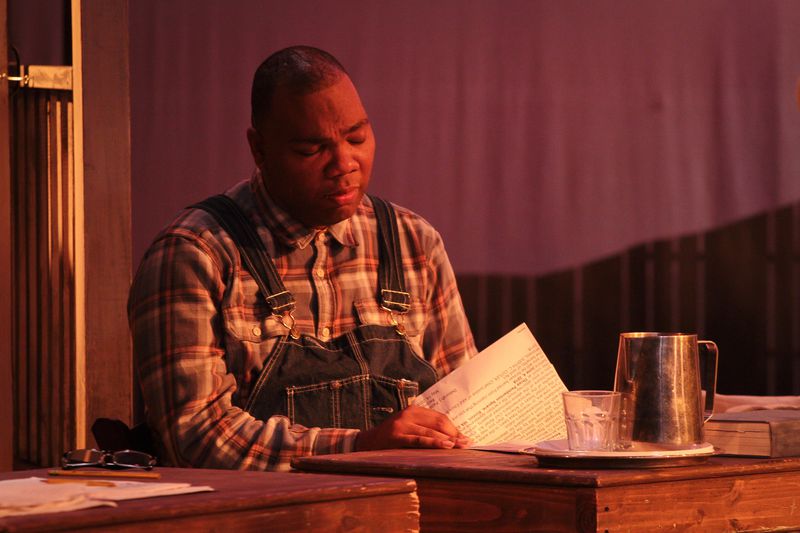 A disabled black man accused of attempting to rape a white girl is defended by small-town Alabama lawyer Atticus Finch in the classic "To Kill a Mockingbird," through May 19 at 6th Street Playhouse in Santa Rosa.
It's the midst of a long hot summer in 1935, and Finch's pursuit of justice puts himself and his family at risk—something he accepts despite inevitable personal and social consequences. Directed by Marty Pistone, Christopher Sergal's 1990 stage adaptation of the classic Harper Lee novel is conveyed as a closely-related collection of reminiscences by Atticus's adult daughter Jean Louise Finch (Ellen Rawley).
Since its debut in 1960, Lee's Pulitzer Prize-winning novel has never gone out of print, and for decades has been required reading in many high schools in the US. Based on incidents that took place in her hometown and elsewhere in the South not only in the 1930's, but much later, it depicts circumstances unique to the time and place but also regrettably universal. The evidence against the accused man, Tom Robinson (Jourdan Olivier-Verdé) is flimsy at best, but Finch's unassailable logic and conviction are insufficient to overcome the racist hysteria infecting the townspeople of Maycomb.
Robinson's fate is disturbing—one that Atticus Finch (Jeff Coté) can see coming but is powerless to prevent. His dismay is shared by the town's sheriff, Heck Tate (Tom Glynn), with whom he is amicable, even friendly. Finch is a disheveled moralist, whose rumpled suit and fatigued demeanor belie his intelligence and commitment to justice. Tate, on the other hand, is a pragmatist whose sense of justice has been leavened by the necessities of keeping a town running smoothly. His pragmatism is shared by Judge Taylor (Alan Kaplan), the cigar-chomping realist presiding over the Robinson trial. An odd bit of set design has the judge sitting behind a comically small bench, almost a cartoon parody. Surely set designer Alayna Klein could find something more imposing and appropriate.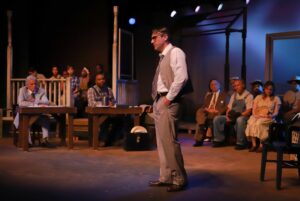 A secondary plot involves Finch's children—a boy, Jem (Mario Giani Herrera), his younger sister "Scout" (Cecilia Brenner, confident and spunky), and their friend Dill (the exuberant Liev Bruce-Low)—and their fascination with a scary reclusive neighbor named Boo Radley (Conor Woods, also this production's technical diretor), and their desire to understand the events taking place around them. They never see Boo outside, but he communicates with the children by leaving mysterious gifts in the hollow of a tree. Late in the story, the fearsome creature lurking in a dark house emerges as an avenging angel.
. . . a gospel choir . . . opens and closes the show . . ."
The whole affair takes place on the front porch and in the yard of the Finch house, transformed with a few props into the Maycomb court house, and at the homes of nearby neighbors—all of it beautifully realized by Klein. In an unusually creative twist, the town's black residents are also a gospel choir. Their glorious music opens and closes the show, and is used as transition between key scenes. Nicholas Augusta, who plays Reverend Sykes, mentioned after the opening performance that "Hold On" is a venerable spiritual, but that other songs were composed for the show by music director Branise McKenzie, aided by her singers. The addition of these singers to this classic production is a wonderful touch. Lighting by April George contributes greatly to the overall feel of the show.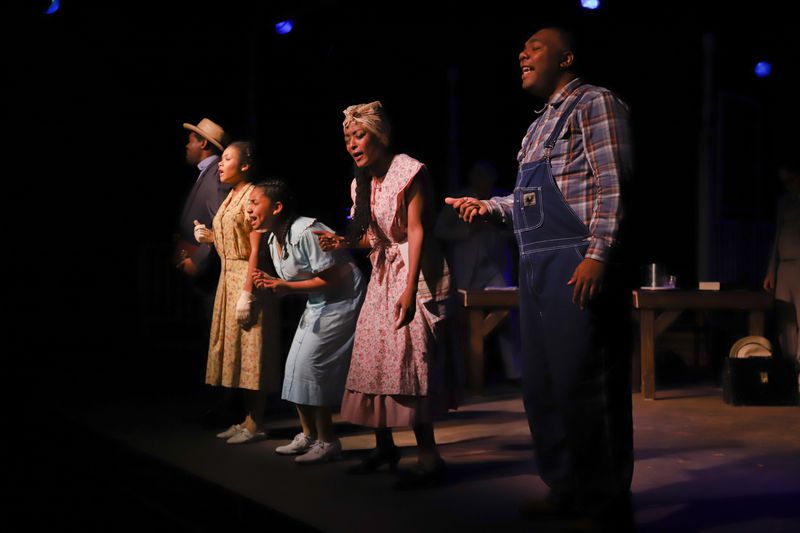 Pistone's cast is generally very good, with standout performances by Val Sinkler as Calpurnia, the Finch housekeeper; Caitlin Strom-Martin as supposed victim Mayella Ewell; and Mike Pavone as the insufferably ignorant redneck drunk Bob Ewell, Mayella's father. Ella Jones is also excellent as Tom Robinson's young daughter. Inexplicably, the show's only Equity actor, Jeff Coté, seems less than fully committed to the lead role.
The language and attitudes in this production are authentic and haven't been sanitized for the sake of political correctness. Without explicit polemics, "To Kill a Mockingbird" elucidates the eternal conflict between human rationality and ignorance. The production at 6th Street is a good reminder of how important it is to continue promoting knowledge of that conflict.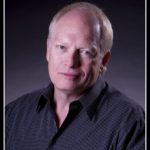 ASR Senior Editor Barry Willis is a member of the American Theatre Critics Association and president of the San Francisco Bay Area Theatre Critics Circle. Contact: barry.m.willis@gmail.com
Production
To Kill a Mockingbird
Written by
Book by Harper Lee
Adapted by Christopher Sergal
Directed by
Marty Pistone
Producing Company
6th Street Playhouse
Production Dates
Through May 19th
Production Address
6th Street Playhouse
G.K. Hardt Theatre
52 W. 6th Street
Santa Rosa, CA 95401
Website
http://www.6thstreetplayhouse.com
Telephone
(707) 523-4185
Tickets
$25 – $35
Reviewer Score
Max in each category is 5/5
Overall
3.5/5
Performance
3.5/5
Script
4/5
Stagecraft
3/5
Aisle Seat Review PICK?
-----