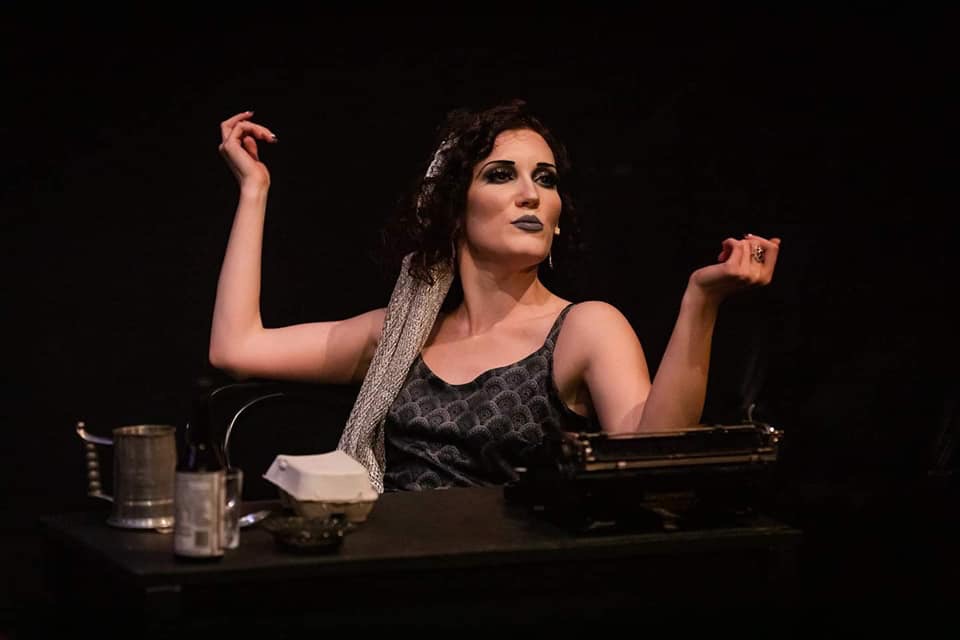 The current American political climate has had some predictable consequences. Among them: a spate of theatrical revivals of Kander and Ebb's "Cabaret," a musical now in its 53rd year. The latest North Bay version runs at Napa's Lucky Penny Productions through June 16th.
The 1972 movie firmly established the show in pop culture—many people know the songs without understanding that the show itself isn't a lightweight romp through the decadent underworld of Weimar Republic Berlin. The story's time frame isn't specific, but encompasses the rise of the Nazi party and increasingly virulent anti-Semitism. We often forget that the Nazi party was democratically elected, having gained popularity slowly but persistently throughout the late 1920s. By 1933 it was the most powerful political party in Germany. The parallels with Trump's America are all too clear.
Directed by Ken Sonkin, this "Cabaret" is presented in shades of gray—except for the Nazi armbands, costumes by Rebecca Valentino are all black/white/gray. Lighting designer April George bathes the stage in flat yellowish light that gives the whole affair a grainy film-noir look. It's an evocative effect but one that left this reviewer longing for more dramatic lighting, something that comes only late in the final act.
The core plot revolves around an itinerant American novelist, Cliff Bradshaw (a youngish Ryan Hook) befriended by German businessman Ernst Ludwig (F. James Raasch) on a train ride into Berlin. Ludwig knows the city intimately, and introduces Bradshaw to the Kit Kat Klub (the cabaret of the show's title) and to Fraulein Schneider (Karen Pinomaki), proprietor of a rooming house where he takes up residence. At the club he meets a self-centered British songbird named Sally Bowles (a spirited Ashley Garlick). The two of them are soon deeply if contentiously involved.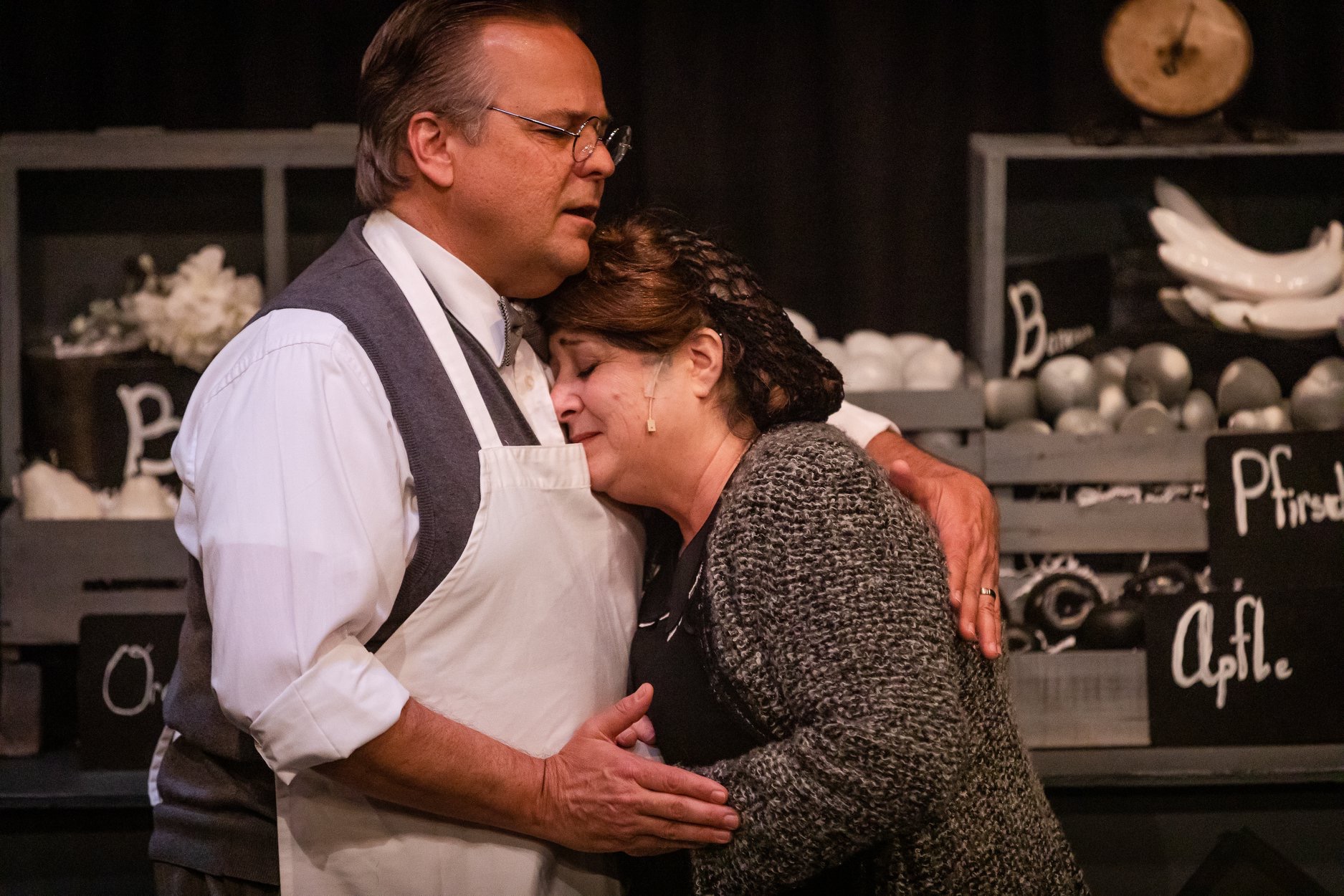 A secondary love story involves Fraulein Schneider and fruit seller Herr Schultz (Tim Setzer), both of them in late middle age and deeply in love. The relationship between Bradshaw and Bowles is interestingly rocky and ultimately sort of pointless, but it's the fate of Schneider and Schultz that hooks the audience. One of only three characters in the play who comprehend the inevitability of the approaching storm—the other two are Bradshaw and Ludwig—Schneider backs out of a late-in-life wedding, hoping to survive by "flying under the radar," as we might say today. As stage director Michael Ross pointed out on opening night, Schneider and Shultz are the pair you're rooting for. Setzer and Pinomaki are at the height of their considerable theatrical powers in conveying the sweetness and hopelessness of their characters' relationship. The two are absolutely wonderful in this production.
The parallels with Trump's America are all too clear."
Denial of the obvious is a strong theme. As the tale progresses, the Nazi movement rises from potential menace to full tsunami, symbolized by a moment when the charming Herr Ludwig comes out of the political closet sporting a Nazi armband. Raasch is superb as the villainous but totally likeable true believer. Fraulein Schneider vows that maintaining a low profile will insure her survival; while Bradshaw tries desperately to get Bowles to leave Berlin with him—before it's too late. Too hooked on minor league stardom to consider going elsewhere, she stays behind when he escapes to Paris. Herr Schultz is similarly clueless, believing that as a native-born German Jew he will be considered a German first. Setzer is magnificent in his portrayal of a kind-hearted man blinded by delusional hope.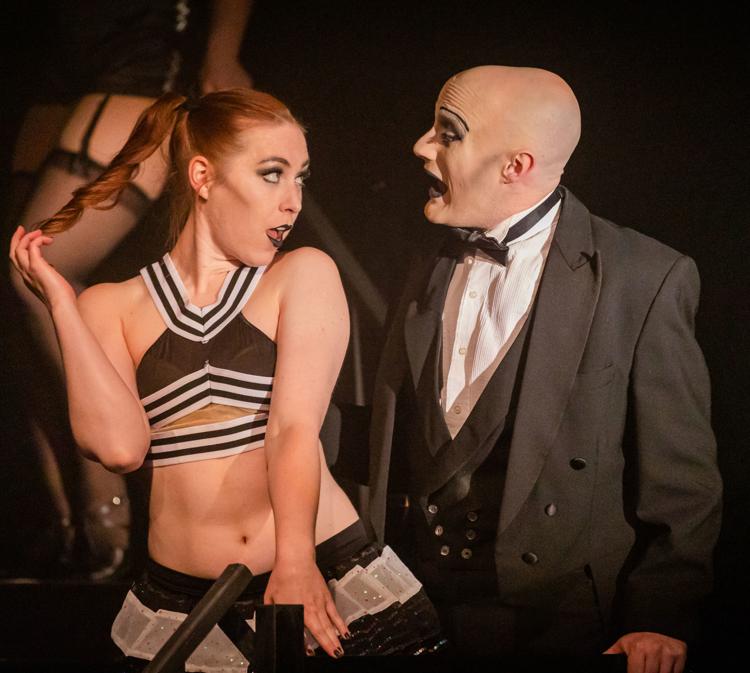 The show-within-a-show is the burlesque in the Kit Kat Klub, stunningly produced and performed by its Emcee (Brian Watson, the cast's only Equity actor). Watson is spectacular throughout, as is the live music from a strong four-piece band led by Craig Burdette. Barry Martin is excellent in several minor roles—as Max, the club's owner; as an inspector on the Berlin-Paris train; and as a Nazi officer. Andrea Dennison-Laufer is very good as Fraulein Kost, a resident of Fraulein Schneider's rooming house, who makes her living entertaining sailors by the hour. Staci Ariaga's choreography is entertaining without being too difficult for the assorted Kit Kat girls, and boys.
Opening night was marred by too much stage smoke and sound effects that overwhelmed dialog—problems that we were assured would be corrected immediately. Fifty-some years after its debut, not much about this show will seem shocking other than its message. Unique to this production is a final dismissal to Nazi madness: the cast tossing their swastika-emblazoned armbands on the floor like so much trash. It's a great directorial decision, and a really satisfying gesture—one performed with silent conviction that no words could emulate.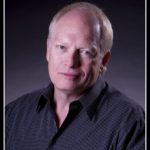 ASR Senior Editor Barry Willis is a member of the American Theatre Critics Association and president of the San Francisco Bay Area Theatre Critics Circle.
Production
Cabaret
Written by
Music by John Kander and Fred Ebb; Book by Joe Masteroff
Directed by
Ken Sonkin; Music Directed by Craig Burdette
Producing Company
Lucky Penny Productions
Production Dates
Through June 16th
Production Address
Lucky Penny Community Arts Center
1758 Industrial Way
Napa, CA 94558
Website
www.luckypennynapa.com
Telephone
(707) 266-6305
Tickets
$30-40
Reviewer Score
Max in each category is 5/5
Overall
3.5/5
Performance
4/5
Script
4/5
Stagecraft
3/5
Aisle Seat Review Pick?
-----