At Sebastopol's Main Stage West through January 27th, "Swallow" is a lyrical and haunting reflection on how we put our pieces back together and rebuild – our wounds, our relationships, our sense of purpose and of self – through the healing conduit of shared suffering and human connection.
Rebecca (Michelle Maxson) is alone and angry. Her husband has fallen in love with another woman. She takes the pain out on herself and fears her scars may never heal. Meanwhile, upstairs neighbor Anna (Dana Scott Seghesio) hasn't left her apartment in months and is tearing it apart piece by piece, living on ice cubes and canned beans in total isolation. When the two begin to talk through Anna's closed door, their fragile, faceless friendship evolves into an unusual but much-needed lifeline.
Sam (Skyler Cooper) is in the process of becoming the man he feels himself to be, enduring the humiliation of a job at which he is still called Samantha and struggling to gain confidence and acceptance in his new identity. Recognizing his own loneliness in Rebecca when he discovers her sitting by herself at a coffee shop, Sam takes a chance and starts a conversation.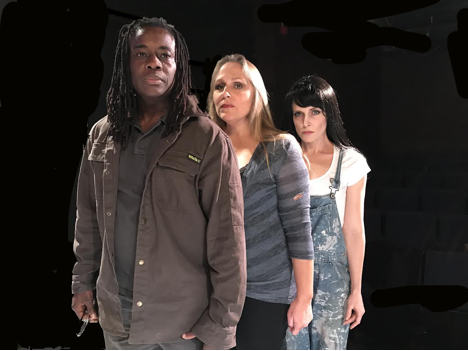 Although she is initially wary, Rebecca begins to let her walls down as she reopens herself to the possibility of finding new love and understanding. But how will she react if Sam comes clean about his past? What unfolds is both dark and uplifting, at moments comical and others crushing.
The chemistry between Sam and Rebecca is real and their relationship utterly compelling. Cooper and Maxson are immensely talented and profoundly well-cast. It is hard to look away from them, even when their interactions pause and the spotlight shifts to Anna in her apartment. In those dark, unmoving moments, the expressions on their faces speak volumes.
…shattered mirrors, broken hearts, fractured bones, and splintered identities…
Scott Seghesio does an admirable job in a difficult role, making Anna about as interesting as she can be given the lack of development her backstory is offered by playwright Stef Smith. It is hard to care as much as we might like to about a cripplingly neurotic person we learn little about beyond her strange obsession with destruction and strained relationship with a brother who pays her rent. The result is that her scenes begin to feel like unwelcome interruptions to the story we're more emotionally invested in. Anna's overwrought metaphorical ramblings about an injured bird become at times torturous as we wait to see more of Rebecca and Sam.
With John Craven's assistance, David Lear has crafted a lean, effective set which succeeds in creating the illusion of a coffee shop, an apartment building, and a city sidewalk without undergoing any major changes. Missy Weaver's light design helps create a sense of separation between rooms and scenes. The sound effects of shattering glass and hammers pounding are well-timed and appropriately jarring thanks to Matthew E. Jones's design.
Despite its imperfections, "Swallow" is inarguably moving, and Smith's compassion for human suffering is evident. She reminds us that we are capable of creating beautiful things from our broken pieces and that no matter how personal or private our battles, we are never really alone in our pain. Main Stage West has handled her material with care, and the result is well worth watching.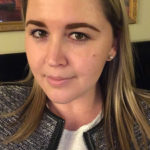 ASR reviewer Nicole Singley is a member of the San Francisco Bay Area Theatre Critics Circle, the Marquee Theater Journalists Association, and the American Theatre Critics Association.
Production
Swallow
Written by
Stef Smith
Directed by
Missy Weaver
Producing Company
Main Stage West
Production Dates
Through January 27th
Production Address
Main Stage West
104 N Main St
Sebastopol, CA 95472
Website
www.mainstagewest.com
Telephone
(707) 823-0177
Tickets
$15 – $30
Reviewer Score
Max in each category is 5/5
Overall
4/5
Performance
4.5/5
Script
3.5/5
Stagecraft
4/5
Aisle Seat Review PICK!
Yes!