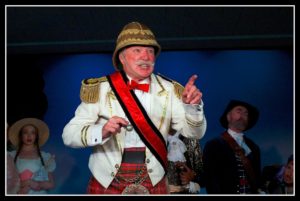 The Pirates of Penzance, that stalwart classic penned by messieurs Gilbert and Sullivan, as rendered in Ross Valley Players' last show of the season, is pretty much the model of what a modern community theater musical should be.
For those unfamiliar with the comic opera staple, here is the plot in a nutshell:  set on the rocky coast of Cornwall, England, the play, which sends up Victorian-era values, begins with a group of not-too-nice pirates who are celebrating the birthday of one of their own, Frederic, who has reached his twenty-first year. Finally having served the full length of his required time with the pirates, he decides to strike off on his own and become an upstanding citizen – which may even mean bringing the pirates to justice. This turns out to be a tricky prospect indeed, especially when Frederic's freedom is called into question! It seems Frederic was born on February 29th, a birth date that only appears every four years — and even pirates can do that math. Insert singing matrons, dancing pirates, eyelash-batting lasses, clueless cops and a snappy major-general (more on him later), and in the end all winds up peachy-keen with the world, with all the he's and she's ending up with the right he's and she's.
Singing propels the story: fourteen songs in Act One and a matching number in Act Two. All that and an intermission in two hours. The result is, as always with Gilbert & Sullivan, a rousing good tale of duty done right.
Few stage directors know how to put actors into stage pictures as well as James Dunn. Mr. Dunn positions actors with such precision, sureness and balance that one could pluck a B&W Polaroid snapshot (if such a thing still existed) out of a stack of 500 directors' scenes and know immediately it belonged to Mr. Dunn.
Mr. Dunn's stagings to date have been Master's theses in scene tableau. He earns full marks here as his hand and eye retain their touch in Pirates. Given the obvious spatial restrictions, lighting limitations and distinctive visual quirks of The Barn, that's saying a lot.
Speaking of a master's touch, the same meticulousness and seasoned expertise were apparent in Michael Berg's costumes. It's fair to say that Mr. Berg's costumes were, with all respect to Mr. Dunn's stage pictures, a hefty percentage of what made the production colorful and powerful. By the time the intermission rolled around, seven peacocks had gotten out of the business.
While we're on the subject of hues, Ron Krempetz's imaginatively simple set, adroitly executed by Michael Walraven, enjoyed the benefits of lighting designer Dhyanis' (yep – one name) equally developed sense and appreciation for tint. Avoiding the cartoonish effects and crayon coloring that sadly so often accompany regional renditions of musicals of this stripe, Dhyanis showed restraint, and a keen eye, which permitted the set to support the show in style. Delightful work.
Then there was Norman A. Hall.
Holding the audience's heart in the palm of his hand, Mr. Hall delivered a performance that alone was worth the price of admission. Aspiring actor Major-Generals, take note of Mr. Hall as The Very Model.
Pirates premiered in the Big Apple in 1879. In 1980, Joe Papp and the trusty New York City Public Theater revived the show and gave it a modern tonal makeover, driving a broader musical comedy style with the play as well, and as a result the show's popularity has swelled for new generations. At Ross Valley Players, opening night 2015 served this tradition.
Some minor areas need smoothing-out, but there's more than enough technical artistry and acting/singing/dancing pizazz to charm its audience.
Show dates are:
Thursdays 7:30 pm on July 23, 30 & Aug. 6 & 13
Fridays 8:00 pm on July 24, 31 & Aug. 7 & 14
Saturdays 8:00 pm on July 25 and Aug. 1, 8 & 15
Sundays 2:00 pm on July 26 and Aug. 2, 9 & 16
For tickets and other information, consult the Ross Valley Players website atwww.rossvalleyplayers.com or call their Box Office on (415) 456-9555.
Rating: Three-and-a-Half out of Five Stars
***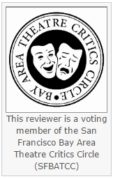 Kris Neely is a member of the San Francisco Bay Area Theater Critics Circle and a Theater Bay Area (TBA) Adjudicator.
Mr. Neely's blogs on theater and performing arts are found on Aisle Seat Review at www.AisleSeatReview.com and also on For All Events at www.ForAllEvents.com.

Mr. Neely is a huge fan of Tejava!
***** ***** ***** ***** *****