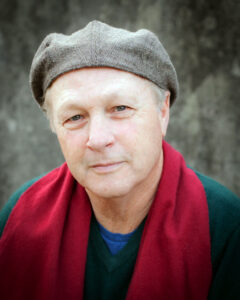 This week, Aisle Seat Review begins a new series of question-and-answer interviews with prominent Bay Area theater people.
Our goal is not to subject you the reader to extended portentous sermons of the guest's views on Russian translations of lesser-known Mamet flash drama (is there such a thing?)
Too often the people who guide and make theater in the Bay Area are behind the scenes — fast-moving denizens of the curtain lines who mumble into microphones while invariably (always excepting Carl Jordan's beret collection…) dressed head-to-toe in black.  These interviews allow you, the reader, to get to know these amazingly talented people a bit more, as…people. Offering some personal and professional insights: with a heavy dash of humor.
***
Our first guest is North Bay director and choreographer Carl Jordan, a theater veteran with three decades of experience. Jordan's "Clybourne Park," "By the Water," and "Death of a Salesman" are among his more recent standout productions.
ASR: How did you get started in theater?
CJ: I was a member of a dance company and started doing choreography there. This led to choreographing musical theater and opera, which led to directing musicals.
ASR: What was the first play you performed in or directed for a paying audience?
CJ: First choreography was a college production of "Babes in Arms." First solo direction was "Little Shop of Horrors."
ASR: How many theater companies have you been involved with?
CJ: Lots.
ASR: Who has had the largest impact on your professional development in the theater?
CJ: My first mentor was my college teacher John Weldon. He taught me to be have fun with what you are doing. His teaching is still a big inspiration. I've learned from every actor I have worked with—they all taught me something. Some, how not to do things. Working with actors, every moment is a lesson in the art. I watch and learn from other directors. I love watching the work of Sheri Lee Miller, now with Spreckels.
ASR: How is your company coping with the coronavirus shutdown?
CJ: I just had a production cancelled, hopefully rescheduled for next season.  It's difficult to plan when we do not know how long this will last. When will it be safe? Right now we all have to be flexible with a plan B and plans C, D etc.
ASR: How do you envision the future for your company? For the theater community overall?
CJ: It will be changed—how, we do not know. In the short term, generally after a crisis, audiences want escapism: happy musicals. Audiences might be affected financially and therefore be reluctant to part with their dollars. At some point, it will mostly return but art reflects our yearnings and our souls and will change.
ASR: Has Assembly Bill 5 affected your theater company's plans?
CJ: I don't know yet.
ASR: What are some of your favorite dramas?
CJ: "Clybourne Park," "Death of a Salesman," "The Jungle," "Angels in America."
ASR: Musicals?
CJ: "Fun Home," "Dear Evan Hansen," "A Little Night Music," "The Spitfire Grill."
ASR: Comedies?
CJ: "Noises Off," "Much Ado About Nothing," "The 39 Steps."
ASR: Three all-time favorites that your company has produced?
CJ: "Return to the Forbidden Planet, the Musical," "Becky's New Car," "Taming of the Shrew."
ASR: Which rare gems would you like to see revived?
CJ: Some of the silly old Rogers and Hart musicals.
ASR: Shakespeare's most over-performed play?
CJ: "A Midsummer Night's Dream," but I still love it
ASR: If you had to do a whole season performing technical work — sets, lights, projections, sound, props, costumes — which would it be and why?
CJ: Lighting design. The art reminds me of creation and joy. Sublime and stark, it adds to and magnifies the story.
ASR: As hard as it may be to pick just one, can you name a Bay Area actor who you think does amazing work?
CJ: L.Peter Calender
ASR: How do you warm up before a performance?
CJ: I do something fun or joyous—frequently I write cards to the cast.
ASR: How do you relax after?
CJ: Libations with friends. And sleep.
ASR: If someone asked to be your apprentice and learn all that you know, what three things would you tell them are essential?
CJ: Read and read and read the script. Then listen to the actors.
ASR: What's the weirdest thing you've seen a guest do at the theater?
CJ: Talking drunkenly to the actors onstage.
ASR: Do you have a day job?
CJ: I'm a licensed general contractor.
ASR: Other artistic interests?
I love the world of dance. I have degrees in dance—I started as a ballet dancer, but mostly choreographed jazz ballets. I love teaching and coaching. I've learned and played several instruments, and studied architecture and building design. I frequently attend museums and art shows. I go to garage sales and flea markets looking for quirky items that might be good props or set pieces. I love puppets and puppet shows, and hiking, especially on the coast. I read constantly—mostly scripts, but I love science fiction. It's my favorite movie idiom.
ASR: Parting comment?
Theater manifests the heart and soul of our lives!
-30-
ASR Executive Editor Barry Willis is a member of the American Theatre Critics Association and president of the SF Bay Area Theatre Critics Circle. Contact: barry.m.willis@gmail.com.